Surely there's an easy way... right?
Paying your tutor can be a real inconvenience for everyone involved - tutors feel awkward asking the age-old question, "Would you mind sending me the fee for this lesson" and parents hate having to do a bank transfer every time their son or daughter sees a tutor.
It's such a hassle!
Here at KIS Academics, we wanted to make life easier for everyone, to remove both the awkwardness and the unnecessary effort from payments.
So we decided to do things a little differently. Let me show you how our payments system works:
Paying your tutor with KIS Academics
Your first time meeting any KIS Academics tutor is always going to be a free, 30 minute study skill consultation. During this session, you'll get to meet your tutor and build an individualised tutoring program for the year. No credit card details required, no lock in contract, no obligation to continue if you're not satisfied. It's as easy as pie 🥧
If you want to book in a free study skills consultation, just click here and you'll have one organised in no time.
Afterwards, KIS uses a unique system called TutorPay to make lesson payments easy as well. With TutorPay, all payments are automated to occur after your lesson and with complete flexibility. Cancel, reschedule and extend lessons as much as you like - we can keep up!
So how does Tutorpay work?
TutorPay is KIS Academics' unique payments system.
After your first paid session, your tutor will submit your lesson date and time to KIS Academics so we have it on record. You'll be emailed an invoice which you can pay online (just like buying something off Amazon!)
Here's what one of our invoices looks like: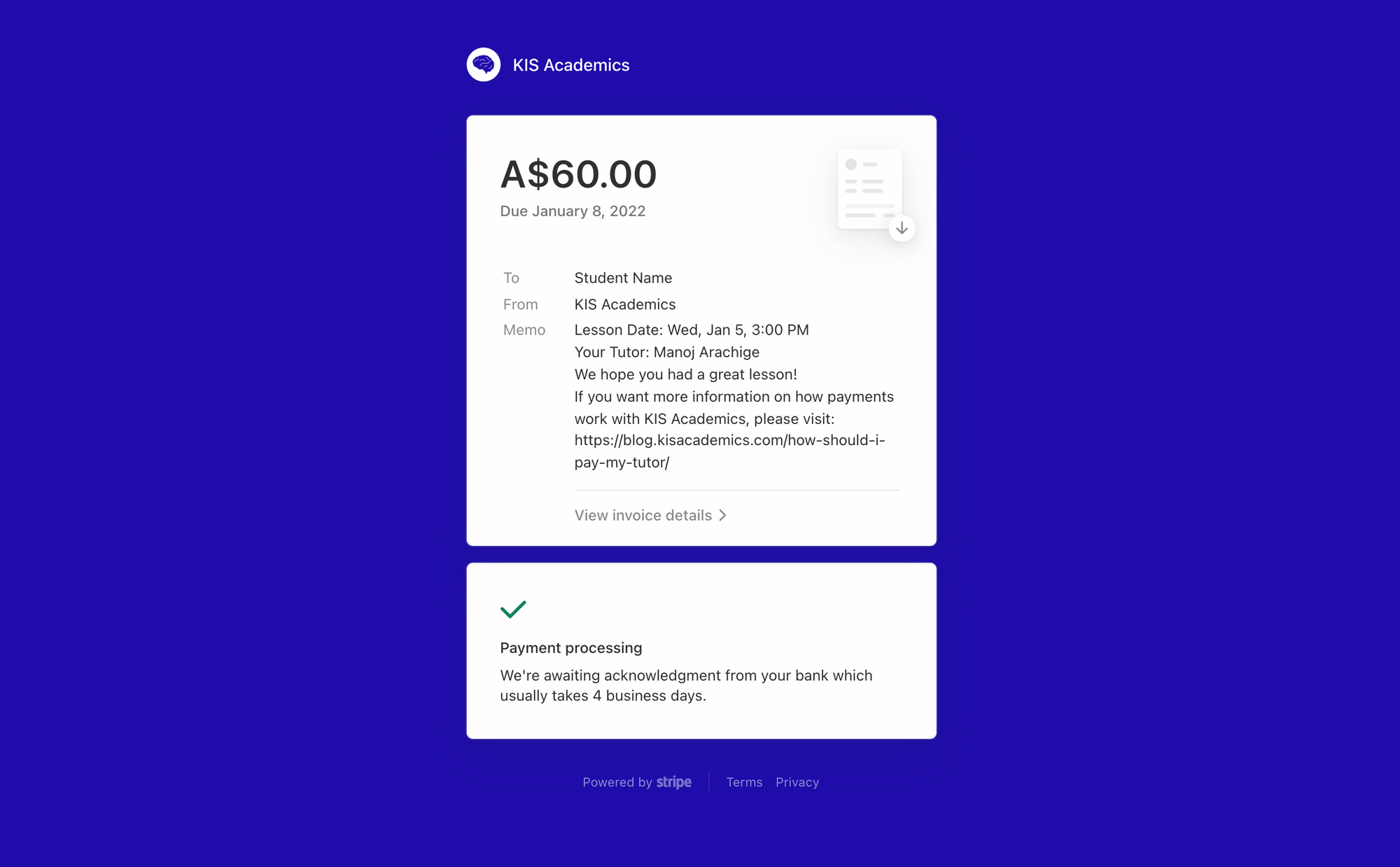 You'll be sent an email with an invoice after every first session you do with a new tutor.
After your first session and paying that first invoice, TutorPay works like magic ✨
After every session, your tutor will submit a record to KIS Academics with the time and date of the lesson. Once they've done that, the charge will be submitted to KIS Academics where someone on our admin team will approve it (we like to double check everything we do!). Finally, approximately 1 hour after your lesson was completed, the fee will be  charged automatically and you won't have to lift a finger. The receipt will be automatically sent to your email inbox so you'll be notified of every payment that goes through.
Here's what a receipt looks like: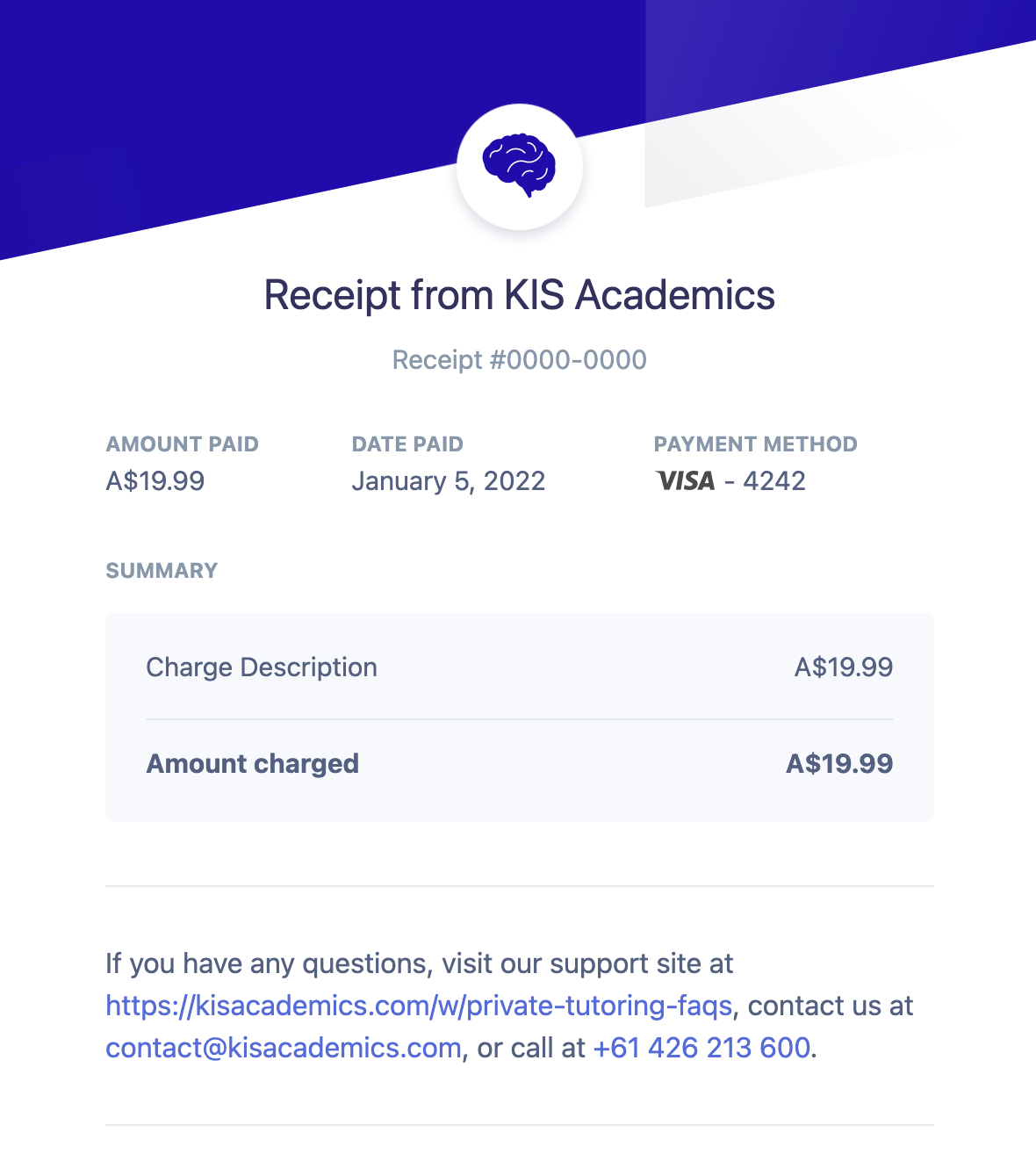 Here are a couple of awesome benefits to our payments process using Tutorpay:
With KIS TutorPay, all payments are automated to occur after your lesson and with complete flexibility. No lock in contracts or packages means that you can cancel, reschedule and extend lessons as much as you like - we can keep up! 🙌 Plus, no more entering your card details every time, annoying bank transfers or awkward conversations
Our payments processor - Stripe - is used by some of the biggest companies in the world (Amazon, Zoom, Google and even the US Stock exchange!). They're like a better version of Paypal! You can rest assured that every payment you make with us is guaranteed to have maximum security. 🔐
We think that getting charged BEFORE a lesson (like some tutoring companies do) is a little bit weird and not that convenient for you. KIS will never charge your card before a lesson. We keep detailed logs of the days and times lessons occur so everything is recorded, and you'll only ever be charged afterwards. ✅
You'll receive a receipt after every lesson as confirmation. You'll never be charged without us notifying you, and you can keep track of how much you're spending on tuition 💳
We provide stellar customer support. If you ever have questions about tutoring, online programs or payments, our admin team will be there to help in the blink of an eye. Our inbox at [email protected] is always open 💌
So, in summary, payments with KIS are easy and convenient because of our smooth process. Here's a recap:
Free, no obligation trial with your tutor
If you're happy, have your first full lesson!
We'll email you an invoice to pay for the first lesson
You pay the invoice (on time hopefully!)
From your second lesson onwards, you'll be automatically charged for every future lesson with that tutor after the session. You'll never need to even think about payments again!
After every charge, you'll receive a receipt to your email so you can keep track
It's as easy as that. I guess you could say we like to Keep It Simple 😉
If you're looking for private tutoring that is smooth, stress free and high quality, book in a free study skills consultation with one of our top tutors.
Trust us, the only thing you'll regret is that you didn't do it earlier.